CATEGORIES
We Accept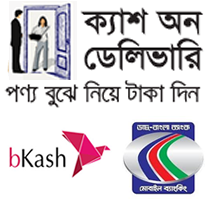 Foot Massager
Product Description

Far Infrared Foot Massager Electric Foot Stimulator Stress Relaxation Vibration Massage Pain Releif Magnetic Phisical Therapy B127


Product Features:


1. a large area of hot feet moxibustion, from the finger until the heel.


2. vibration intensity stepless variable speed, free to adjust.


3. Vibrating parts of the surface of the protruding particles to stimulate the local


community, through the meridian.


4. When using vibration, magnetic therapy, hyperthermia can be combined into one,


but also alone, any choice.


Main Specifications:


Rated voltage: AC 220V, frequency 50Hz


Enter the total power of 3W


Amplitude ± 2.0mm,hot temperature above 40 ℃


Terms of Conditions

Free Home delivery is also available


No Delivery charge


Outside Of Dhaka Delivery via SA Poribohon


Products will be delivered within 1 to 6 hours after confirmation of the order


100% Genuine Products


Faster Delivery Service


Hotline : 01671463547